1.英文讲解中国书法
你好,我国书法简介如下:"Introduction to Chinese Calligraphy Chinese calligraphy (Brush calligraphy) is an art unique to Asian cultures. Shu (calligraphy), Hua (painting), Qin (a string musical instrument), and Qi (a strategic boardgame) are the four basic skills and disciplines of the Chinese literati. Regarded as the most abstract and sublime form of art in Chinese culture, "Shu Fa" (calligraphy) is often thought to be most revealing of one's personality. During the imperial era, calligraphy was used as an important criterion for selection of executives to the Imperial court. Unlike other visual art techniques, all calligraphy strokes are permanent and incorrigible, demanding careful planning and confident execution. Such are the skills required for an administrator / executive. While one has to conform to the defined structure of words, the expression can be extremely creative. To exercise humanistic imagination and touch under the faceless laws and regulations is also a virtue well appreciated. By controlling the concentration of ink, the thickness and adsorptivity of the paper, and the flexibility of the brush, the artist is free to produce an infinite variety of styles and forms. In contrast to western calligraphy, diffusing ink blots and dry brush strokes are viewed as a natural impromptu expression rather than a fault. While western calligraphy often pursue font-like uniformity, homogeneity of characters in one size is only a craft. To the artist, calligraphy is a mental exercise that coordinates the mind and the body to choose the best styling in expressing the content of the passage. It is a most relaxing yet highly disciplined exercise indeed for one's physical and spiritual well being. Historically, many calligraphy artists were well-known for their longevity. Brush calligraphy is not only loved and practiced by Chinese. Koreans and Japanese equally adore calligraphy as an important treasure of their heritage. Many Japanese schools still have the tradition of having a student contest of writing big characters during beginning of a new school year. A biannual gathering commemorating the Lanting Xu by Wang Xi Zhi (The most famous Chinese calligrapher in Jin dynasty, ) is said to be held ceremonially in Japan. There is a national award of Wang Xi Zhi prize for the best calligraphy artist. Not too long ago, Korean government officials were required to excel in calligraphy. The office of Okinawa governor still displays a large screen of Chinese calligraphy as a dominating decor. In the West, Picasso and Matisse are two artists who openly declared the influence by Chinese calligraphy on their works.多谢你采纳了我的二个答案。
但中国书法这篇不行吗?这是专门介绍中国的书法(毛笔书法)的。再奉上另一篇:Chinese Calligraphy The Chinese Brush Calligraphy is one of the traditional four arts which was once an important critical standard for the Chinese literati in the imperial era and now prevails not only in China but also worldwide as a unique branch of art. Calligraphy is so abstract and sublime that in Chinese culture it is universally regarded to be the most revealing power of a person. While one has conformed to the defined structure of words, the expression can be displayed with great creativity by individuals. To become an artist or expert in calligraphy, one has to practice word by word and stroke by stroke until the spirit of the practice gets into one's mind. Just as Chinese Qi Gong, the Chinese brush calligraphy can temper a person into a state in which one can apply subconsciousness got from the daily practice to control the concentration of ink and the compatibility of font and size of each piece or word. In contrast to the Western calligraphy, diffusing ink blots and dry brush strokes are viewed as a natural and free impromptu expression. All the varieties of the operation depend on the mental exercise that coordinates the mind and the body to perform the proper sense to choose the proper way in expressing the content of the passage. Calligraphy is considered as an active way of keeping one fit and health for the practice is either relaxing or self-entertaining. Historically, many calligraphy artists both in China and Japan were well known for their longevity."。
2.求中国书法英文介绍!英语高手进!!!
Easier - Calligraphy is the art of making beautiful or elegant handwriting. It is a fine art of skilled penmanship.
Harder - The word calligraphy literally means beautiful writing. Before the invention of the printing press some 500 years ago, it was the way books were made. Each copy was handwritten out by a scribe working in a scriptorium. The hand writing was done with quill and ink onto materials like vellum or parchment. The lettering style applied was one of the period bookhands like rustic, carolingian, blackletter, etc.
Today, there are three main types or styles of calligraphy: (1) Western or Roman, (2) Arabic, and (3) Chinese or Oriental. This project focuses mainly on Western calligraphy with a glimpse at the other two styles.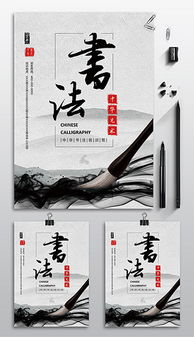 3.用英语介绍中国书法
The art of calligraphy is widely practiced and revered in the East Asian civilizations that use Chinese characters. These include China, Japan, Korea, and formerly Vietnam[1].In addition to being an artform in its own right, calligraphy has also influenced ink and wash painting, which is accomplished using similar tools and techniques. The East Asian tradition of calligraphy originated and developed from China, specifically the ink and brush writing of Chinese characters. There is a general standardization of the various styles of calligraphy in the East Asian tradition. Calligraphy has also led to the development of many other forms of art in East Asia, including seal carving, ornate paperweights, and inkstones.[edit] ToolsThe paper, ink, brush, and inkstone are essential implements of East Asian calligraphy: they are known together as the Four Treasures of the Study (T: 文房四宝 / S: 文房四宝) in China, and as the Four Friends of the Study (HG: 문방사우 / HJ: 文房四友) in Korea. In addition to these four tools, desk pads and paperweights are also used by calligraphers.[edit] PaperSpecial types of paper are used in East Asian calligraphy.In China, Xuanzhi, traditionally made in Anhui province, is the preferred type of paper. It is made from the Tartar wingceltis (Pteroceltis tartarianovii), as well as other materials including rice, the paper mulberry (Broussonetia papyrifera), bamboo, hemp, etc.In Japan, Washi is made from the kozo (paper mulberry), ganpi (Wikstroemia sikokiana), and mitsumata (Edgeworthia papyrifera), as well as other materials like bamboo, hemp, rice, and wheat. somtimes the brush is used to put ink on a pen[edit] InkThe ink is made from lampblack (soot) and binders, and comes in sticks which must be rubbed with water on an inkstone until the right consistency is achieved. Much cheaper, pre-mixed bottled inks are now available, but these are used primarily for practice as stick inks are considered higher quality and chemical inks are more prone to bleeding over time, making them less suitable for use in hanging scrolls. Learning to rub the ink is an essential part of calligraphy study. Traditionally, East Asian calligraphy is written only in black ink, but modern calligraphers sometimes use other colours. Calligraphy teachers use a bright orange ink with which they write practice characters for students and correct students' work.[edit] BrushThe brush is the traditional writing implement in East Asian calligraphy. The body of the brush can be made from either bamboo, or rarer materials like red sandalwood, glass, ivory, silver, and gold. The head of the brush can be made from the hair (or feather) of a wide variety of animals, including the wolf, rabbit, deer, chicken, duck, goat, pig, tiger, etc. There is also a tradition in both China and Japan of making a brush using the hair of a newborn, as a once-in-a-lifetime souvenir for the child. This practice is associated with the legend of an ancient Chinese scholar who scored first in the Imperial examinations by using such a personalized brush.Today, calligraphy may also be done using a pen, but pen calligraphy does not enjoy the same prestige as traditional brush calligraphy.[edit] InkstoneA stone or ceramic inkstone is used to rub the solid ink stick into liquid ink and to contain the ink once it is liquid. Cheaper inkstones are made of plastic.Inkstones are often carved, so they are collectible works of art on their own.[edit] come in several types: some are oblong wooden blocks carved with calligraphic or pictorial designs; others are essentially small sculptures of people or animals. Like inkstones, paperweights are collectible works of art on their own right.[edit] Desk padThe desk pad (Chinese T: 画毡, S: 画毡, Pinyin: huàzhān; Japanese: 下敷 shitajiki) is a pad made of felt. Some are printed with grids on both sides, so that when it is placed under the translucent paper, it can be used as a guide to ensure correct placement and size of characters. These printed pads are used only by students. Both desk pads and the printed grids come in a variety of sizes.[edit] SealMain article: Chinese sealWorks of calligraphy are usually completed by the artist putting his or her seal at the very end, in red ink. The seal serves the function of a signature.[edit] StudyThe Chinese method of holding the brushHow the brush is held depends on which calligraphic genre is practiced. For Chinese calligraphy, the method of holding the brush is more special; the brush is held vertically straight gripped between the thumb and middle finger. The index finger lightly touches the upper part of the shaft of the brush (stabilizing 。
4.英语初中演讲稿(我的爱好
My hobby, the Chinese calligraphyRemember the twelfth year, faster than the Spring Festival, my father and I to square to taking pictures, see a succession of booths are selling couplet. Have a little QianWei booths full of people. Curiosity flooding drove I ran past which look. A crowded in to see, is an age not big grandpa, are free to write on citizens couplet. In the process of writing works and complete will get other people's ZanMeiSheng. At that time I really want to learn calligraphy. So I'm in "drunk ink porch" miss li there signed up and began my calligraphy training.Start, miss li to teach us how to holding the pen and some basic stroke capitalization, tell us, the most important practice calligraphy can't worry, want to have patience. After class, I dipped in ink began to write, pen didn't listen to me。
and no teacher that use it freely, the most laughable, exercise don't know when, my hand and clothes will touch some ink.Because at ordinary times to go to school, only to learn calligraphy on Sunday, in the home I finished his homework and he will practice a characters, mainly is the copy of ouyang xiu font. Slowly, my big word than before to write much more good-looking. , I at home occasionally and dad game. Dad praised me well written. Miss li also praised me good progress. So I am especially with confidence. Turn an eye and to the twelfth, I on a work, is li bai's "that lushan waterfall at", after mounting more beautiful, I hung it in my study. To my house guests always admire my works. Near the Spring Festival, miss li to teach us to write the Spring Festival couplet, first to learn origami, and then is cursive writing, indescribably good。
. Also have big hang "happiness" upside down, and I write a lot of vice couplet and hang "happiness" upside down, to grandma and relatives, I heard of their praise, than the prize to want happy!Get everybody's sure, and I'm now more strong interest in calligraphy. More than one year to come, whether on Sunday or vacation, I was his own initiative to learn calligraphy. I look forward to the greater progress, attend some writing contest, has let my mother happy happy medal. I believe that I will overcome all the difficulties and persist in calligraphy this road, become a calligrapher.。
5.用英语介绍中国书法,要口语化一些的
Chinese calligraphy is an Oriental art. But what makes it an art? It is very much like painting. It uses Chinese characters to communicate the spiritual world of the artist. Just as one thousand persons will have as many faces, one thousand persons will have as many differences in handwriting. Through the medium of form, way of handling the brush, presentation, and style, calligraphy as a work of art conveys the moral integrity, character, emotions, esthetic feelings and culture of the artist to readers affecting them by the power of appeal and the joy of beauty. Calligraphy is not only a practical technique for writing Chinese characters, but also a unique Oriental art of expression and a branch of learning or discipline as well. As a branch of learning it is rich in content, including the evolution of writing styles, development and rules of technique, history of calligraphy, calligraphers and their inheritance in art, and evaluation of calligraphy as a work of art. This branch of learning is wide ranging and deep, forming an important part of Chinese culture.。
6.英语初中演讲稿(我的爱好
My hobby, the Chinese calligraphy Remember the twelfth year, faster than the Spring Festival, my father and I to square to taking pictures, see a succession of booths are selling couplet. Have a little QianWei booths full of people. Curiosity flooding drove I ran past which look. A crowded in to see, is an age not big grandpa, are free to write on citizens couplet. In the process of writing works and complete will get other people's ZanMeiSheng. At that time I really want to learn calligraphy. So I'm in "drunk ink porch" miss li there signed up and began my calligraphy training.Start, miss li to teach us how to holding the pen and some basic stroke capitalization, tell us, the most important practice calligraphy can't worry, want to have patience. After class, I dipped in ink began to write, pen didn't listen to me。
and no teacher that use it freely, the most laughable, exercise don't know when, my hand and clothes will touch some ink.Because at ordinary times to go to school, only to learn calligraphy on Sunday, in the home I finished his homework and he will practice a characters, mainly is the copy of ouyang xiu font. Slowly, my big word than before to write much more good-looking. , I at home occasionally and dad game. Dad praised me well written. Miss li also praised me good progress. So I am especially with confidence. Turn an eye and to the twelfth, I on a work, is li bai's "that lushan waterfall at", after mounting more beautiful, I hung it in my study. To my house guests always admire my works. Near the Spring Festival, miss li to teach us to write the Spring Festival couplet, first to learn origami, and then is cursive writing, indescribably good。
. Also have big hang "happiness" upside down, and I write a lot of vice couplet and hang "happiness" upside down, to grandma and relatives, I heard of their praise, than the prize to want happy!Get everybody's sure, and I'm now more strong interest in calligraphy. More than one year to come, whether on Sunday or vacation, I was his own initiative to learn calligraphy. I look forward to the greater progress, attend some writing contest, has let my mother happy happy medal. I believe that I will overcome all the difficulties and persist in calligraphy this road, become a calligrapher.。
7.英语演讲想讲关于中国书法或者服饰但是没稿子
All of teachers, everyone, I am a high school sophomore Li Lei, today My lecture is entitled "Chinese calligraphy, Chinese people's pride."Five thousand years of splendid Chinese civilization and the unparalleled wealth of written records have been recognized as the world, in this profound long history, Chinese calligraphy and painting art for its unique art forms and artistic language reproduce the diachronic evolution of the process of . The nature of a sister art of painting again in the history of the evolution of the complementarity and independence of its Interpretation of China's traditional culture. As the books, paintings used the tools and materials consistent. "Chronicles painting in mind" in talking about the ancient text, pictures origin, said: "Yes, also, calligraphy and painting with the body without points, like the system, but still slightly Chao Chuang, without in order to pass the Italian, so the books; no set are reflected in its shape, so it is art. " Although the painting has a homologous comparable, but the next state of development is based on the independence of complementary development and change. Chinese calligraphy art form, development and the creation and evolution of the Han characters exist inseparable correlated. So what is "calligraphy" mean? We can see from its nature, aesthetic characteristics, the source of the unique aspects of the performance of methods to understand. Chinese calligraphy is based on writing with a brush, with four-dimensional characteristics of abstract symbols art, which embodies everything the "unity of opposites" is the basic law and reflects the spirit of the people as the subject, temperament, knowledge and self-cultivation.Very early origin of Chinese characters to write text to an aesthetic of the development phase - integrated into the creators of the concept, thinking, spirit, and to inspire aesthetic objects of aesthetic emotion (that is, a real sense of Calligraphy formation). Recorded to test those who, while in between the Han and the Wei-Jin (about half of 2nd century AD to 4th century), however, it is not ignored, played down or even deny the existence of prior art form of calligraphy and historical status of artistic value. That marked the beginning of Chinese characters, begun to take the early works of artistic creation, without exception, has its own particularity and the times. The calligraphy, despite the earlier text - Oracle, as well as pictographic character, the same word a character different from the number of strokes in different circumstances. However, already has a symmetrical, balanced rules, and a pen (knife), forming the word, the rules some of the regularity of factors. Moreover, in the line organization, changes in the beginning and end of strokes with the ink has been the book means that the significance of the brushstrokes. Therefore we can say the art of calligraphy the previous generation, there is not only belong to the scope of the history of calligraphy, but also an art form for future generations the development of transmutation can learn from and think about important example.China's history of civilization is a diachronic, linear process, Chinese calligraphy art in the context of such a big show of the times with its own development profile. In the calligraphy of the embryonic period (the Shang to the Han and Three Kingdoms), the text experienced by Oracle, classical (Jin), Seal Script (Zhou Wen), Xiao Zhuan, scribe (eight), cursive, running hand, real books stage, followed by the evolution of . Uncertainty in the calligraphy of the period (Jin Southern and Northern Dynasties to the Sui and Tang dynasties), the art of calligraphy has entered a new realm. By Zhuanli trend from simple Cao Xing and true in the book, which became the mainstream style of the period. The emergence of the great calligrapher Wang Xizhi shine art of calligraphy, and his highly regarded artistic achievements spread to the Tang Dynasty. At the same time, the Tang Dynasty calligrapher who swarm into the sky, such as: Yu Shinan, Ouyang Xun, Chu Katsuyoshi, Yen Chen-ching Liu Gongquan and other big artists. Attainments in calligraphy on the strengths and weaknesses, styles and diverse. Experience of the Song, Yuan, Ming and Qing, Chinese calligraphy as a national symbol, represents the profound Chinese culture and national culture of the eternal charm.I finished the speech, thank you.。
转载请注明出处博思文化网 » 中国书法传统文化讲座英语(英文讲解中国书法)